Integrated Risk Management
For digital transformation
Risk Management Implementation
Government management, risk and compliance consist of identifying, analyzing and quantifying the probabilities of losses and side effects arising from disasters, and from non-compliance with the rules, laws and regulations required of the organization, as well as the corresponding preventive, corrective and reductive actions that must be undertaken.
The benefit of the service is to facilitate compliance with the rules, laws and regulations required of the company from a risk management s perspective and government leadership to implement the necessary controls for the proper functioning of the organization.
We offer:
Personalized and tailored support for each company in the implementation and adoption of governance, risk and compliance controls.
Highly trained consultants specialized in the implementation of industry best practices in IT governance.
ISO 22301 Business Continuity Management
The existence of a Business Continuity Program allows maintaining properly prioritized, coordinated, and tested plans. In addition, to prepare the organization to respond to «unrevised» incidents that severely impact the income and image of the organization.
We help structure, strengthen, and develop strategies for the resilience of your organization's business processes, applications and IT infrastructure, based on local regulatory frameworks and international best practices.
We help define a service level at acceptable limits that will allow a minimum recovery period to progressively restore the organization's processes.
We advise on the development and implementation of plans and strategies so that the essential functions and operability of the business continue in a reasonable manner, meeting the expectations of its main stakeholders.
We develop workshops that allow the organization to encourage a conscious and sensitized corporate governance on the importance of resilience.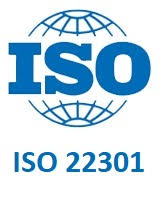 ISO/IEC 27001 information Security Management
Whenever you talk about a company, institution, agency, or entity among other similar organizations, it is important that the information is integrated and is protected under good security measures. That is where the security of information is born to keep safe all the important data of the company, from those that belong to the organization itself as those linked to workers and customers.
Information security encompasses a set of techniques and measures to control all the data that is handled within an institution and ensure that the management of information security is not managed by the company.